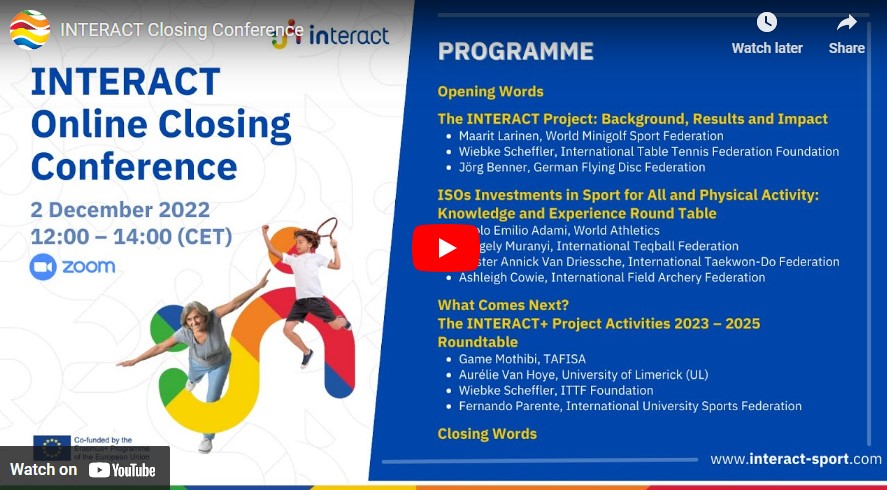 Relive our Online Conference on International and European Sport Organisations Activating Citizens
---
The online closing conference of the INTERACT project (International and European Sport Organisations Activating Citizens) successfully took place on 2 November and recorded 215 registrations from 80 countries.
Relieve the Workshop through our video replay below or on YouTube.
Following welcome words by TAFISA Secretary General Jean-François Laurent, different INTERACT partners shared first about the INTERACT project's background, results, and impacts. Next, representatives from different International Sport Organisations participated in a knowledge and experience-sharing round table. To round up the conference, the new INTERACT+ project (2023-2025) was announced and presented by different INTERACT+ partners.
Conference speakers included:
Maarit Larinen, Chair, Sport for All Commission, World Minigolf Federation
Wiebke Scheffler, Head of Operations, International Table Tennis Federation Foundation
Jörg Benner, Executive Director, German Flying Disc Federation
Paolo Emilio Adami, Medical Manager, World Athletics
Gergely Muranyi, Head of Diplomatic Relations, International Teqball Federation
Master Annick Van Driessche, Board Member, International Taekwon-Do Federation
Ashleigh Cowie, International Field Archery Federation
Game Mothibi, Senior Manager, TAFISA
Aurélie Van Hoye, Marie Curie Research Fellow, University of Limerick (UL)
Fernando Parente, Director of Healthy Campus and University Relations, International University Sports Federation (FISU)
TAFISA would like to thank all INTERACT partners for their hard work during the project and would like to welcome all INTERACT+ partners for a good continuation of the programme!
INTERACT would like to thank the speakers for their enlightening contributions and all participants for their enthusiasm and constructive questions.
---