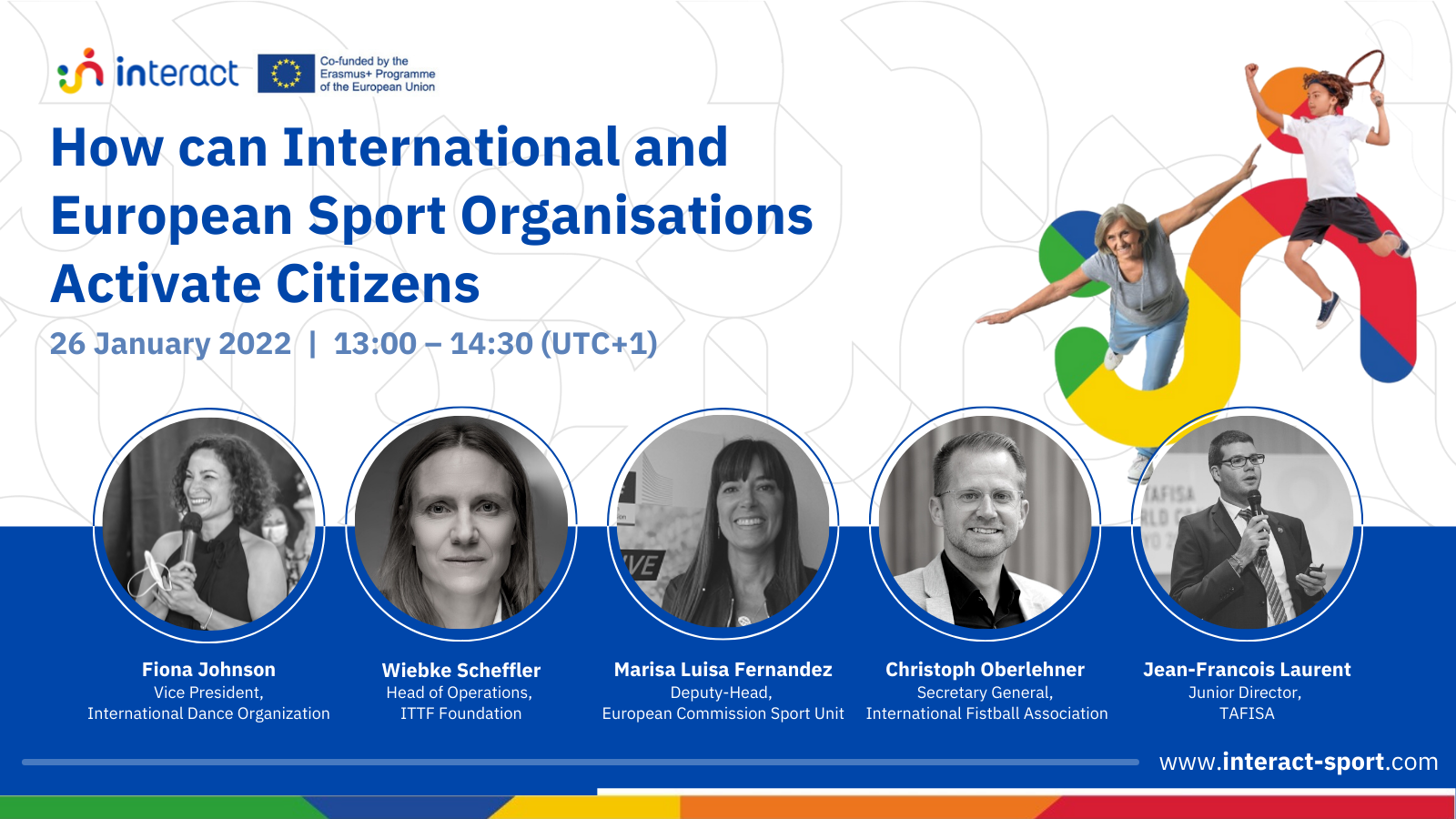 Join us for the free online INTERACT Opening Conference on 26th January 2022, 13:00 - 14:30 CET.
---
The INTERACT Opening Conference, on the theme "How can International and European Sport Organisations Activate Citizens", promises enriching contributions and interesting debates.
Register for free at https://www.eventbrite.com/e/interact-opening-conference-tickets-226790796377.
The Conference will be moderated by Ms. Fiona Johnson, Vice-President of the International Dance Organisation, while TAFISA Vice-President Ms. Catherine Forde will give Opening Words and TAFISA Secretary General Mr. Wolfgang Baumann will close the event.
The 4 main speakers will be:
Wiebke Scheffler
Head of Operations, ITTF Foundation
Working at the International Table Tennis Federation Foundation, Wiebke Scheffler has a long-standing experience in using Spor for Development and Peace and 7 years experience in Table Tennis for All. She runs the financial, legal and strategic operations of the ITTF Foundation since 2019 and has also been running  her own, co-founded NGO for the past 17 years.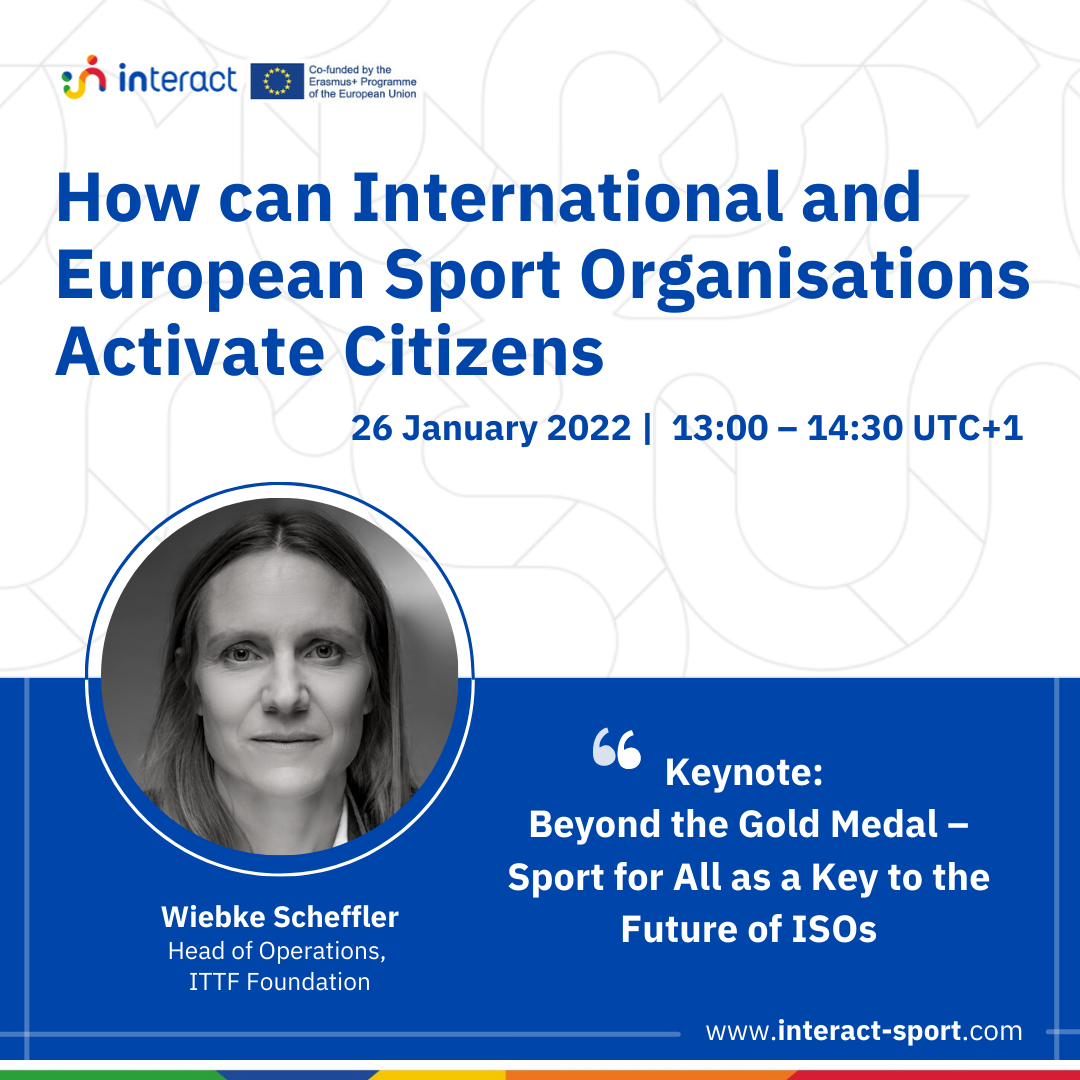 Marisa Fernandez Esteban
Deputy Head, European Commission's Sport Unit
Marisa Fernandez Esteban holds a degree of Law from the Autonoma University of Madrid, with ERASMUS award for her academic semester in the University of Amsterdam. She holds a PHD in European Law from the European University Institute in Florence. She was a lecturer of European and Constitutional Law at the Autonoma University of Madrid before joining the European Commission where she has dealt with accession negotiations, copyright and audiovisual legislation. Between 2014 and 2015 she was the assistant to the Director General of DG EAC.  She is the author of 3 academic books on European Law.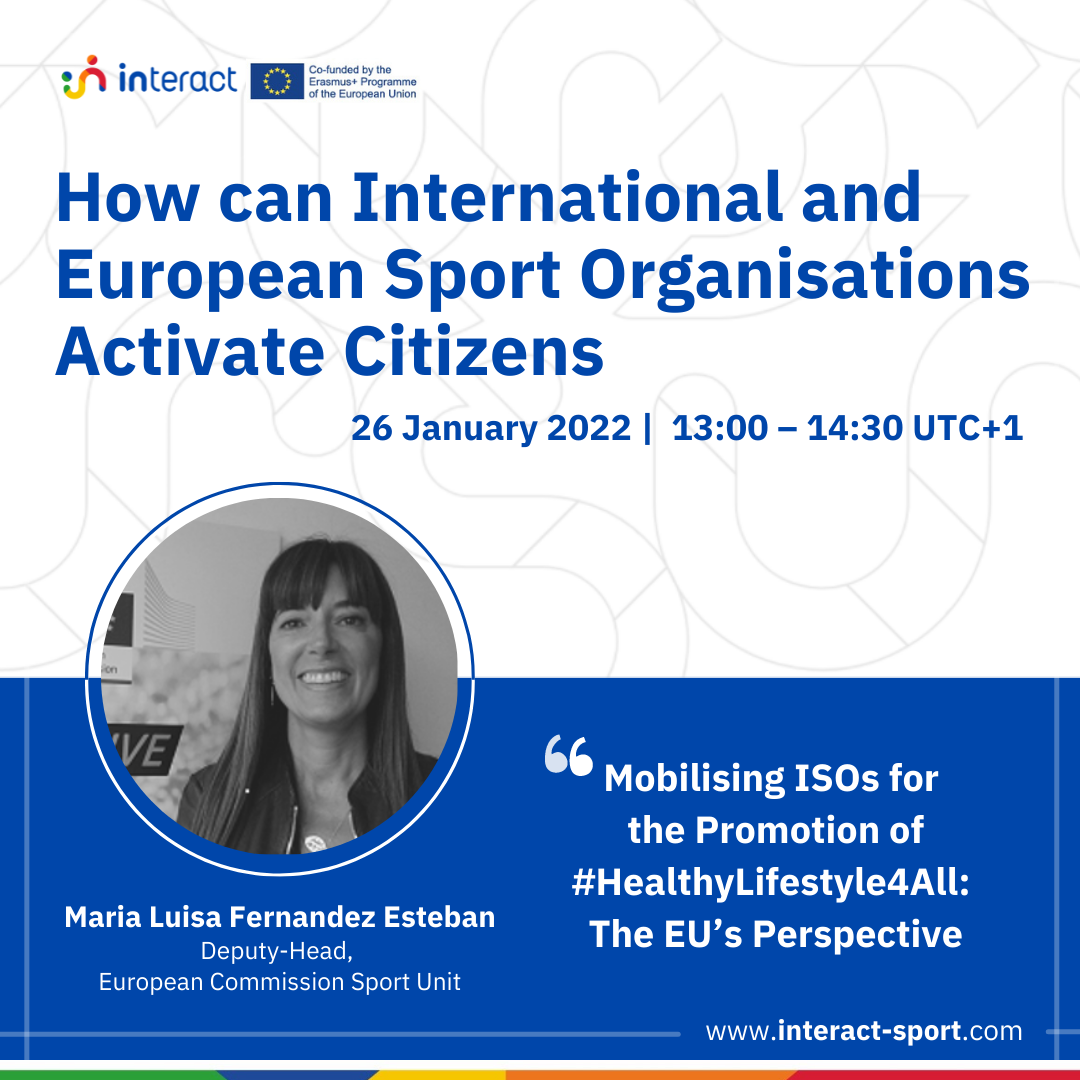 Christoph Oberlehner
Secretary General, International Fistball Associaton (IFA)
Christoph Oberlehner  started his career at IFA as Administrative Director in January 2017 serving as the first fulltime employee of IFA. He brings many years of professional experience in the sports business to the table. Oberlehner served as marketing and sponsoring director of Austrian soccer Bundesliga team SV Ried, as well as for a soccer consulting firm in Munich. Furthermore, he has gained experience in several projects with FIFA, the German Bobsleigh and Tobogganing Federation, as well as member of the organizing team of the Fistball Euro 2016 in Grieskirchen. He combines the professional world of sports as well as the Sport for all perspective as he is head of Fistball club UFG Sparkasse Grieskirchen/Pötting.
Jean-Francois Laurent
Junior Director, TAFISA
Jean-Francois Laurent is Junior Director at TAFISA headquarters in Frankfurt, Germany, where he is responsible for regional, business and strategic development, partnerships, as well as leading TAFISA's global programmes and events such as the INTERACT Project. He specialises in the promotion and advocacy of Sport for All and physical activity and has been a consultant for Sport for All in many countries. Originating from Nancy, France, he graduated in social and political sciences as well as sports management at the Institute of Political Studies of Grenoble and Aix-Marseille University, France in 2012. He also studied at the University of Adelaide, Australia.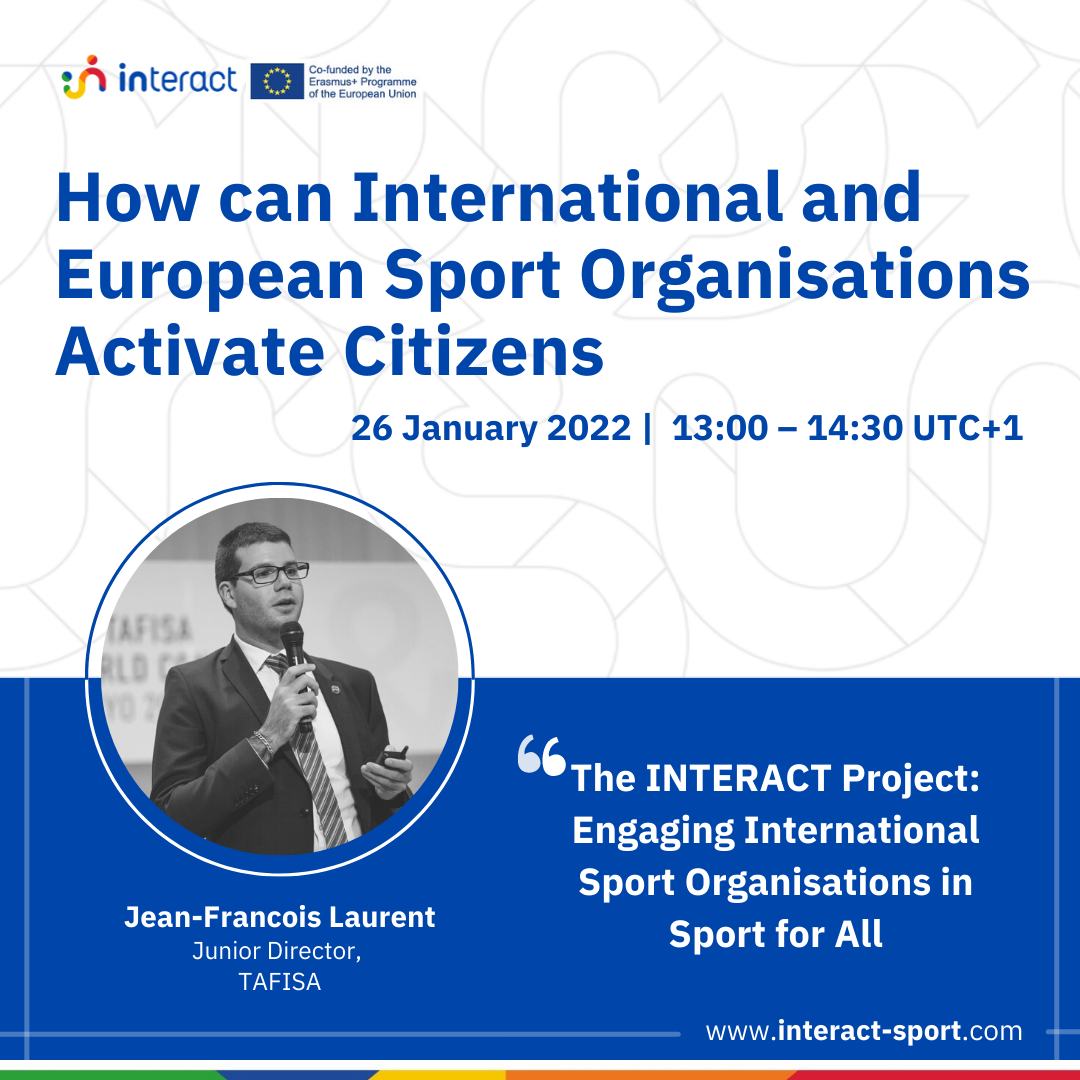 ---